Laguna Verde – Saltos de Petrohué – Lago Todos Los Santos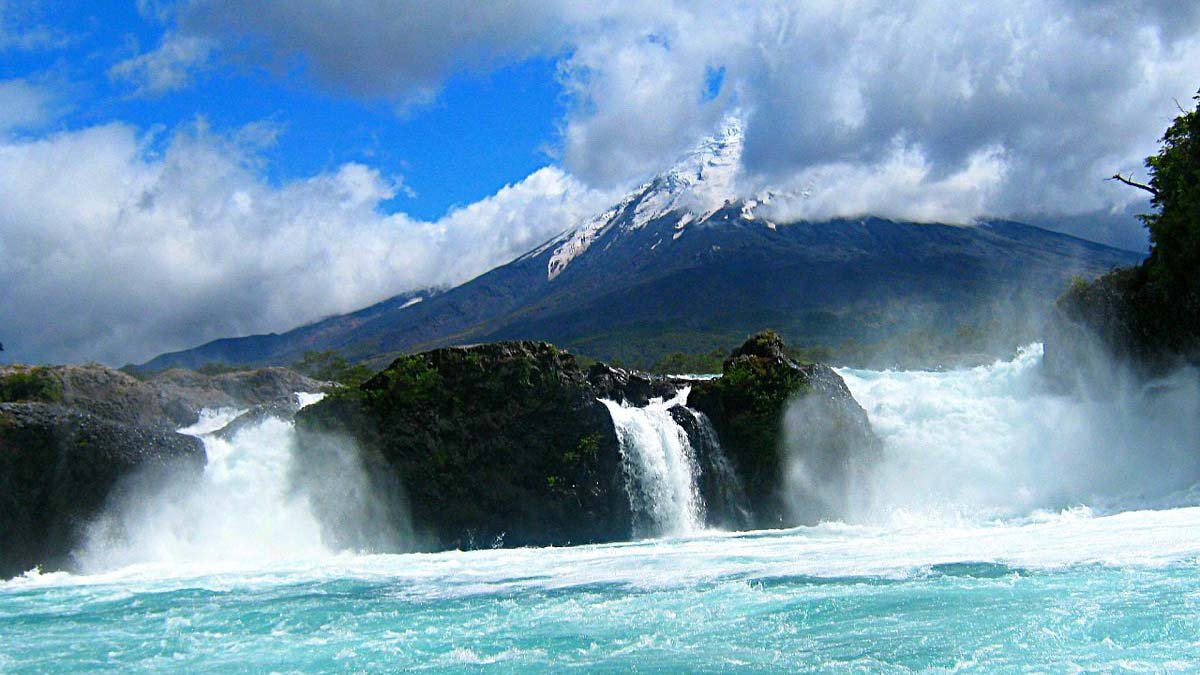 | | |
| --- | --- |
| Starting point | Green lagoon |
| End point | Cold beers in Puerto Varas. |
| Location | Puerto Varas-Ensenada-Vicente Perez Rosales park, Lago Todos los Santos |
| Duration | 5-6 hours |
| Difficulty | EASY 25 km / 15.5 miles |
| Meals | Box lunch included: Sandwich, fresh fruits, water, juices and chocolate. |
| Bikes included | Mountain Bikes Mérida 29" o Cannondale 27.5" 27-speeds, aluminium frame, front suspension, disc brakes. Ortlieb waterproof panniers. |
| Guide | English, Spanish |
| Security equipment | Repair kit, pump and backup tubes. Emergency equipment |
We will pick you early in the morning at your hotel in Puerto Varas and drive to Green Lagoon, a small inlet of Lake Llanquihue, to which it is connected by a narrow channel. This lagoon has an intense emerald green colour, the edges are lava that falls abruptly, giving it great depth. The lagoon is surrounded by very attractive paths.
Then we will go on our bikes to Petrohué River falls, a worldwide tourist attraction, as you see the falls of foamy waters between rocks encased by the Osorno volcano, the river jumps between great masses of hard lava, a marvellous experience!!
The Petrohué River starts at lake Todos Los Santos, and is undoubtedly one of the most picturesque rivers of Chile, because its stream goes on a bed of stones producing rapids and falls of great beauty, the sound is Awesome.
The strong green colour of the waters of the Petrohué, which contrasts with the blue waters of Lake Llanquihue, attract the attention of the traveller.
On the side of the road, the magnificent mole of the Osorno volcano is constantly visible, and on the opposite bank there are high mountains with closed vegetation, the abundance of coigües and other trees are awesome.
Finally we will end our journey at Lake Todos los Santos, one of the most beautiful places in the world. Surrounded by dense vegetation, forests of coigües, ulmos and olivillos, a picture of indescribable beauty.
We will replenish energy at the lake, with a marvellous lunch, then we will return biking to Laguna Verde and head to Puerto Varas on our private vehicle. Finally we will enjoy some cold beers for a perfect ending to a great day.
PRICE:
2 people: USD 130.- each
3-4 : USD 120.- each
Groups: USD 110.- each